Dispute Resolution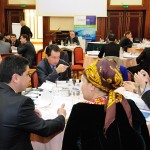 In any employment, business, or personal relationship, disputes may arise between the parties. When conflict arises, parties often try to resolve the dispute through negotiations. When negotiations fail and litigation looms on the horizon, parties can decide to use a third party dispute resolution process, such as facilitation, mediation, arbitration, mini-trials and dispute review boards, to avoid litigation . All of these alternative dispute resolution processes are less costly and more expeditious than the courts, and they often salvage relationships which would otherwise be exacerbated by litigation. As an example, parties who choose mediation report excellent success rates, better than 75%, and greater satisfaction with an outcome which they control than with judicial resolution where the judge or jury makes the decision.
Carr, Swanson and Randolph partners have been pioneers in fully implementing dispute resolution in many areas subject to conflict. They have years of practical experience with business, construction, public policy, environmental, employment, discrimination, and labor disputes. They possess extensive dispute resolution process skills which include facilitation, mediation, arbitration, mini-trials and dispute review boards and combinations thereof. Frank Carr has years of experience mediating and arbitrating construction and employment disputes and serving on Dispute Review Boards; Pete Swanson, a former Commissioner of the Federal Mediation and Conciliation Service, has extensive experience mediating public policy, employment, labor and environmental disputes; and Bob Randolph, a Virginia Supreme Court certified mediator, adds his expertise as a mediator and arbitrator in business, employment and international commercial disputes. CSR dispute resolution services provide international and domestic parties with a framework for resolving their differences amicably and in a manner which produces quick results, substantial cost savings and lasting resolutions.
Work CSR has Done – Dispute Resolution
Construction Mediation.
CSR partner, Frank Carr, mediated a multimillion dollar facility construction dispute involving approximately 100 individual claims. The dispute was settled without any litigation.
National Archives and Records Administration Tailored Dispute Resolution Process.
CSR partner, Pete Swanson, has regularly conducted long-term, large group/office interventions that mix mediation, facilitation, coaching, leadership development assistance, training and education to create healthy workplaces. He is currently facilitating the national level labor-management partnership efforts.
Professional Malpractice Mediation.
CSR partner, Bob Randolph, successfully co-mediated a very difficult malpractice claim brought against an accountant who was alleged to have negligently prepared federal income tax claims on behalf of a client.
Virginia Court System Mediation.
CSR partner, Bob Randolph, is regularly accepting a variety of cases referred to mediation by the northern Virginia courts and has successfully resolve more than 80% of the cases accepted for mediation.
Employment Mediation.
CSR partner, Frank Carr, successfully mediated an employment discrimination dispute between an agency director and a subordinate professional employee. The complaint involved allegations of sex and national origin.
Construction Arbitration.
CSR partner, Frank Carr, arbitrated a multimillion dollar construction dispute on a newly constructed high rise luxury hotel in a major resort area.
Federal Agency Internal Conflict Facilitation.
CSR partner, Frank Carr, facilitated the resolution of numerous internal problems within a major federal agency and assisted the parties in developing a plan for successfully moving forward.
Dispute Review Board.
CSR partner, Frank Carr, is a Dispute Review Board Member on the New York City "East Side Access Tunnel Project". The project consists of a new subway line for the Long Island Railroad from Queens to Grand Central Station and a new terminal in Grand Central.
Independent Committee Conflict Prevention.
CSR partner, Bob Randolph, recently completed a conflict prevention assignment as a member of an Independent "Fairness Committee" advising a global equity company ("the Company") on the fairness, from the perspective of its minority interest holders, of a debt for equity transaction. Tailoring the process from various dispute resolution techniques and using an investment bank and independent evaluation experts, the Committee crafted a solution accepted by all parties that protects the interests of the Company, the Lender, minority interest holders and the Borrowers.